My step dad and I were discussing this construction project a year ago when in Florida - a high school with a $60m stadium. There are a couple interesting things to note. It's only the third largest high school stadium in Texas and the previous facility sat something like 12,000 and was sold old consistently. We speculated if they should have gone 25,000 or 30,000 in size. In reality, this facility will be subsidizing the school itself with the revenue it generates. The school has some 5,000 students. Allen is a northern suburb of Dallas.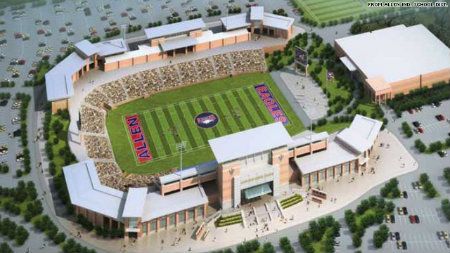 • $60 million, 18,000-seat high school football stadium opens
• Publicly financed by voter-approved bond package
• Player: 'It definitely helps us in the process of kicking tail'
"Football is a religion." Or so goes the increasingly overheard statement about our national obsession with the sport. And while tangible verification of this belief can be a bit challenging to come by, a sparkling $60 million temple of sorts offers some very compelling evidence of its accuracy.
This particular shrine is a high school football stadium in, of course, Texas. The good voters (worshippers?) in Allen approved a $119 million bond package three years ago, which included funds for the stadium, a fine arts auditorium and school transportation among other things.
Yes, yes. The other stuff is all well and good. But you know all anyone is looking at is the $60 million voters approved to finance a high school stadium.
So what does all that cash get you? Well, physically speaking, it buys 18,000 seats in a modern, two-tiered horseshoe design, an HD scoreboard, a weight room and press box that resemble what you'd find inside college stadiums and an indoor practice facility -- for the golf team.
Then there are the intangible benefits. Such as? "It definitely helps us in the process of kicking tail," offensive tackle Brad North candidly told Dallas' KTVT.
And if you're an opposing player accustomed to playing in front of rickety bleachers, a row of Port-o-Pottys behind the end zone and a couple school buses with their engines still running in the parking lot, you're likely to feel a sense of unease entering the Allen Eagles' gleaming stadium which will soon serve to validate North's point.
In Allen, everyone is an Eagle. The high school is the only one in the suburban Dallas district, a fact which the school superintendent says was a factor in designing the stadium.
"Eighteen thousand seats is an unusual project for a high school," Allen School District Superintendent Ken Helvey told CNN last year. "But once you've been here you understand, 'OK, well they have to have it if you're going to continue being one high school.'" He says the facility will generate "considerable revenue" for the community, which "goes right back into the whole fund for teachers."
The stadium's Friday night lights officially switch on -- and, administrators hope, wallets flip open -- for the first time on August 31.
http://www.hlntv.com/article/2012/08/08 ... &hpt=hp_t3